All the works listed are fabricated by SINO SCULPTURE, we forbid any behaviour of plagiarizing and duplicating in any form. Please respect artists and yourself as well
Video: Public mirror polished stainless steel casting statue - Figure & Globe sculpture
Artwork name: Stainless steel figure and globe statues
Material: 316L stainless steel
Finish: Mirror polishing & sandblasting
Dimension: H186cm
Installation Site: South Africa

Photo: mirror polish stainless steel statue of Figure & Globe
This artwork was designed by one of South Africa sculptors. This mirroring steel figure statue is 186cm high, who has push a Dia90cm globe in front of him. This steel artwork was cast by 316L stainless steel with full mirror polished of the figure and some parts of the globe ball was sandblasted to distinguish the lands and ocean by different finishing.

To cast the statue, due to the lack of model (physical model or 3D file), first it needs our clay sculptor has sculpted a 1:1 scale clay model of the statue according to the actual photos provided by client, then the confirmed clay model turned to fiberglass model for preparation of lost-wax casting.
Photos: 11 scale clay model of the Figure & Globe Statue
While if the client cam provide the original 3D scanning file, then we can 3D print 1:1 scale resin model based on the 3D file provided by client, that was much easier than to sculpt one clay model if the client did not have such 3D file which was created or scanned directly.
The fiberglass model has to be cut into sections for stainless steel casting. The method is similar with bronze casting, while the process is more complicated and higher requirements for stainless steel casting crafts, as the stainless steel melting temperature is much higher than bronze, which can reach 1400℃. The mirroring reflective finish was made by hand as well. Our polishers have ground and polished from rough to fine, and finally got such high reflective mirroring finish.

Photos: Detailed mirror polished of the Figure & Globe statue
As a more than 20-year metal casting foundry, we have accumulated much experience in casting bronze, stainless steel, iron and other metals with high quality craft. This stainless steel statue has already been delivered to client successfully and well installed in Kempton Park of Gauteng.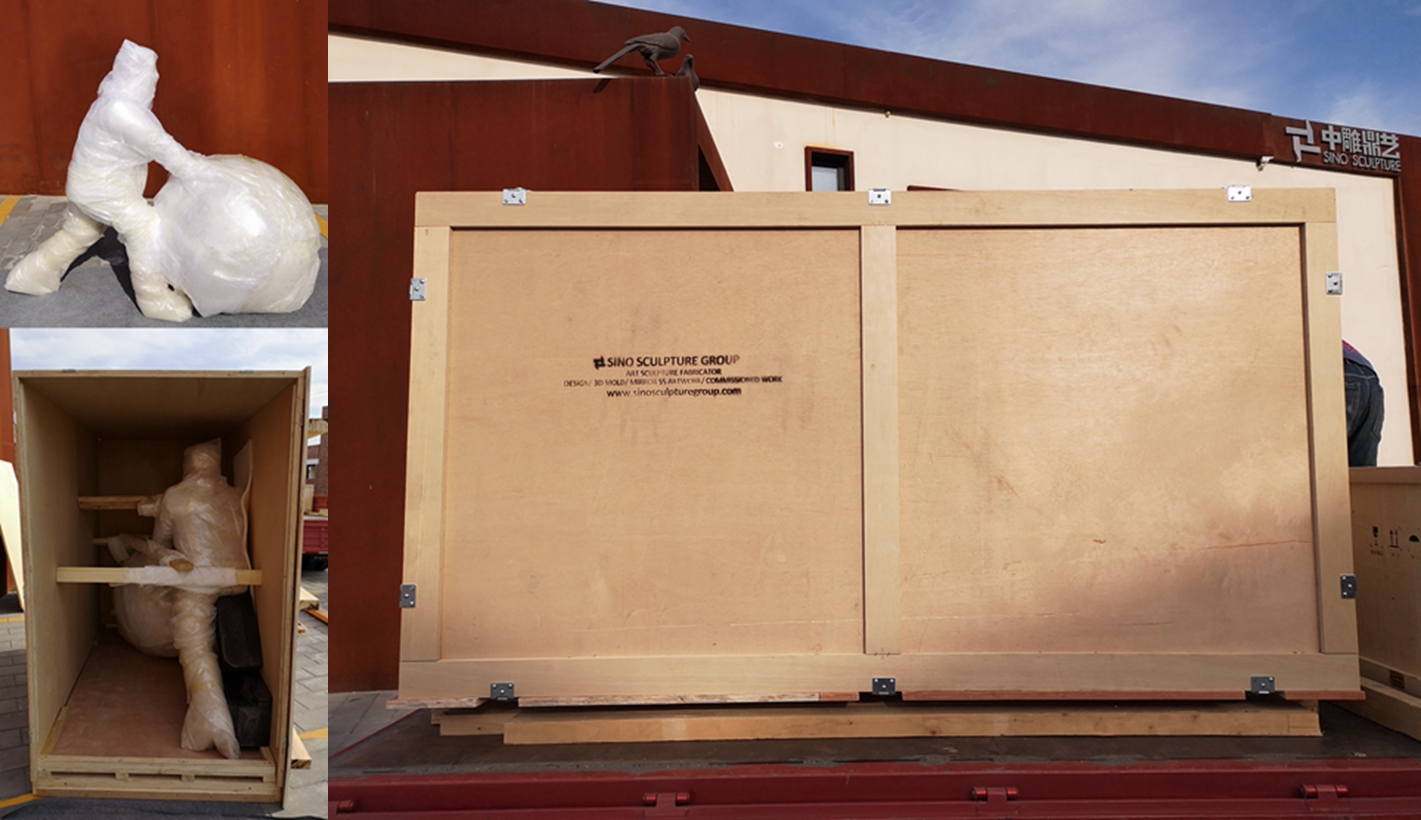 Photo: plywood pack and loading of the stainless steel Figure & Globe statue