All the works listed are fabricated by SINO SCULPTURE, we forbid any behaviour of plagiarizing and duplicating in any form. Please respect artists and yourself as well
Video of the night lighting view of the artwork
This stainless steel Spiral sculpture Spiritual fortress was finished installation in the year of 2020 and located in Lilanz cultural creative park of Fujian province.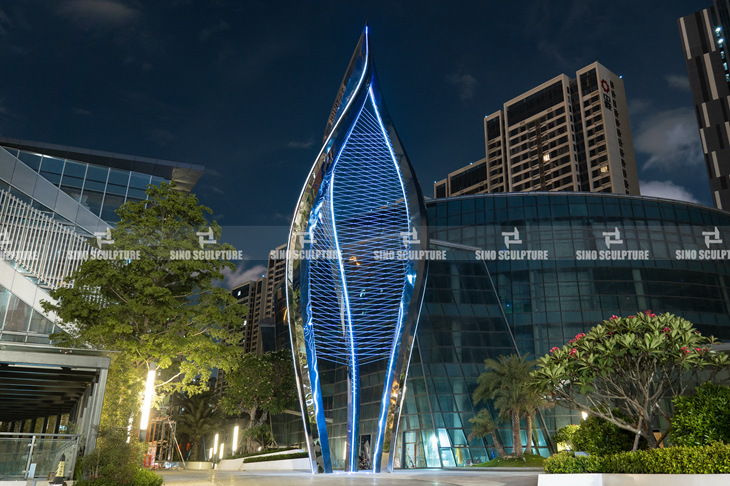 The completed nigh view of stainless steel spiritual fortress sculpture in Lilanz cultural creative park
Basic Information of This Forged Stainless Steel Spiral Sculpture
Art Sculpture No. & Name: Stainless steel Spiral Sculpture

Dimension (Height x Width x Depth): H28M
Material: Surface 316 stainless steel+Internal structure Q345B carbon steel
Finish: Mirror polished
Completion Year: 2020,
Location: Quanzhou, China
Detail Information About this Mirrored Stainless Steel Spiral Sculpture
It is designed by Chinese artist,the overall shape is composed of three isosceles triangle pillars spiraling upward in the isosceles triangle position, and they merge into a point at the top. At the same time, each triangle pillar is connected by multiple equal stainless steel wires.
The height of this mirror stainless steel spiral sculpture is 28m(91.86ft). Its exterior surface panel made by 316L stainless steel plate, and interior structure made by Q235B. The surface shows a mirror polishing effect, meanwhile by combining with LED light presents lighting effects of different color changes at night, highlighting the sense of layering and expressiveness.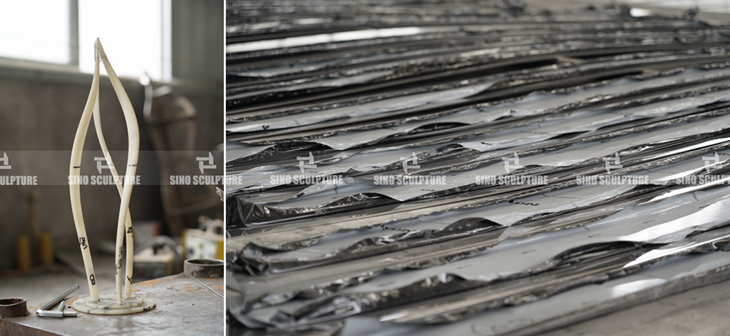 3D print and material preparation of stainless steel spiral sculpture in Sino Factory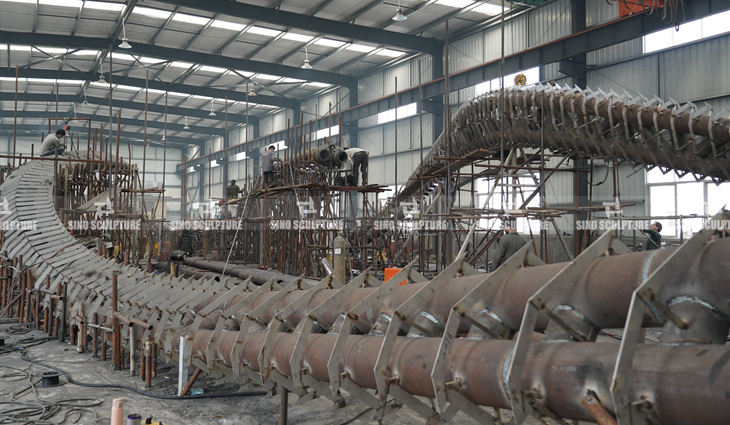 Forged stainless steel spiral sculpture main structure fabrication in Sino Sculpture Factory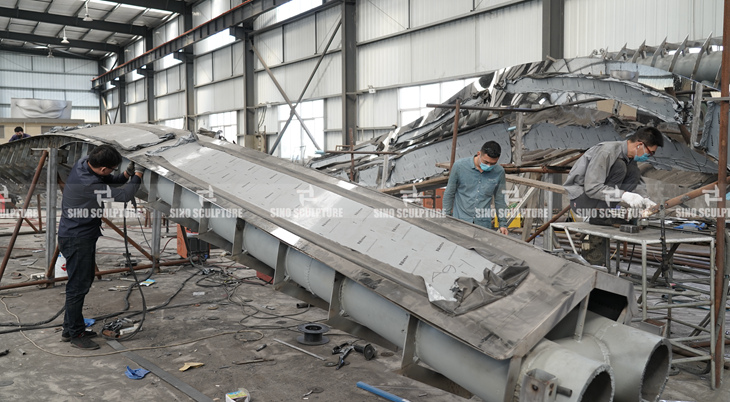 Surface panel assembling and welding for stainless steel spiral sculpture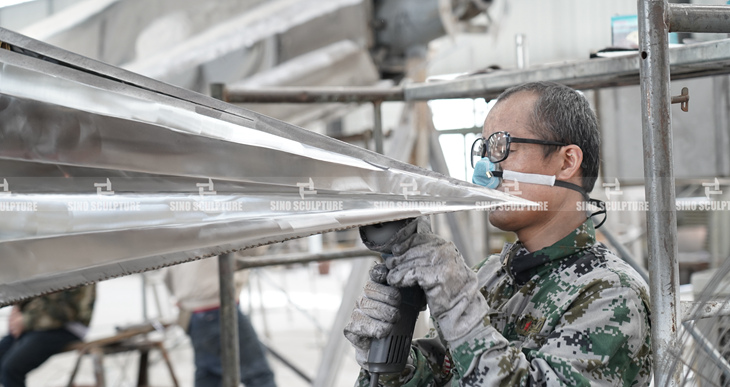 Polishing work of customized stainless steel spiral outdoor artwork.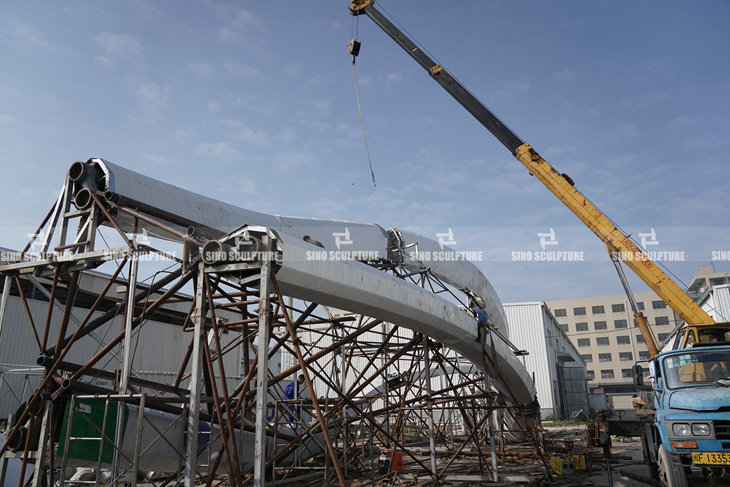 Pre-installation work in Sino Sculpture Factory
This customized mirror polished stainless steel spiral sculpture is finished fabrication in our Xiamen factory and total spend about 20 days to finish the on-site installation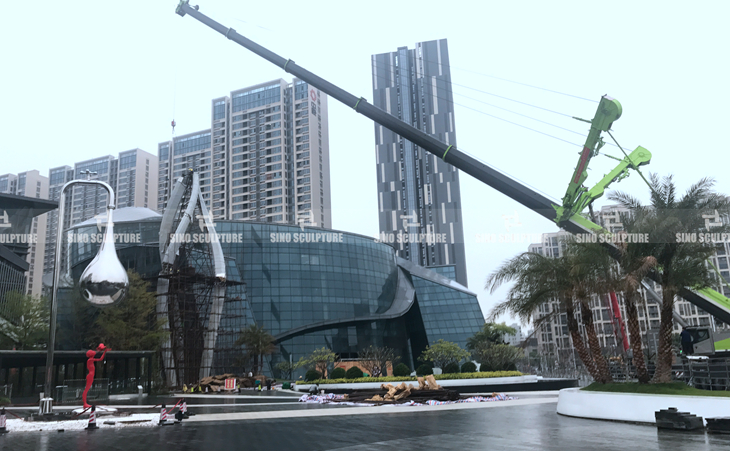 On-site installation work for Lilanz creative park.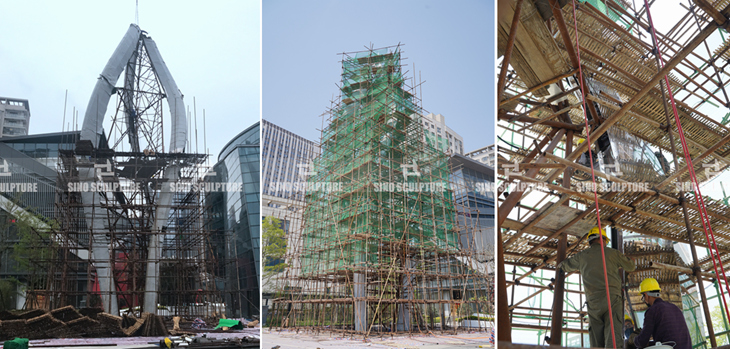 Final polishing work of on-site installation
As a special stainless steel sculpture manufacturer, we choose hand forging craft for this mirrored stainless steel spiritual fortress artwork, ensure the surface smooth and flatness, so as to show a perfect polished mirrored effective.
Such a fantastic stainless steel spiral sculpture named Spiritual fortress not only carries the feelings of the artist, but also expresses the culture of a region and shows the craftsmanship of a country.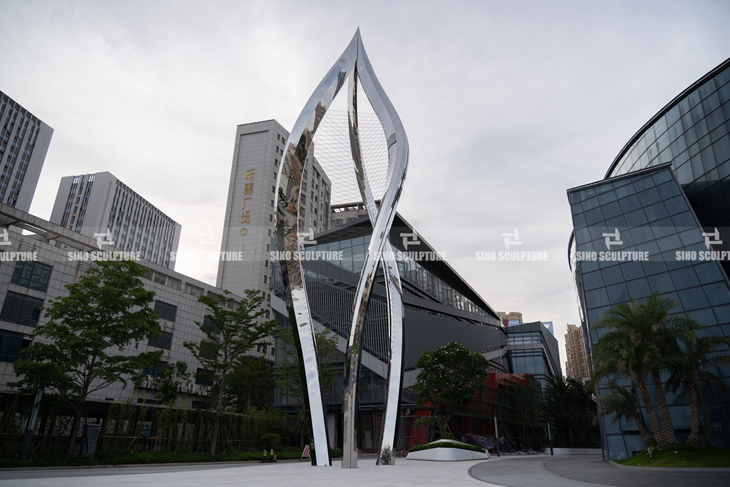 Installed in Lilanz cultural creative park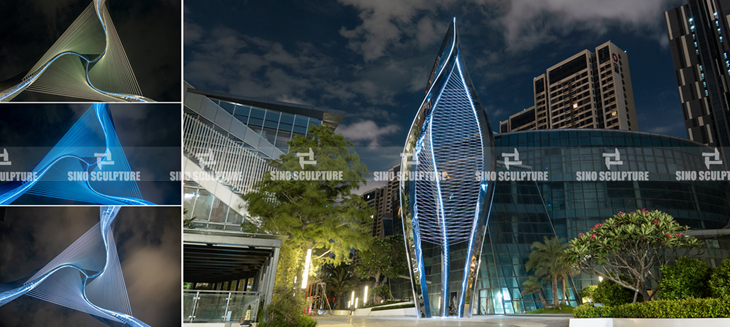 Night view of stainless steel spiral sculpture after installation